"Your image means everything… Once your truck has been accurately loaded, your laundry business becomes a mobile business!"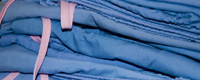 M-LINX™ is focused exclusively on dramatically reducing your overall cost of linen management, while providing you with Control measures to ensure you stay on track.
Backed by over 28 years of providing mobile industry expertise, our M-LINX™ solutions are built with the required features that mobile workers rely on a daily basis.
Our M-LINX™ solution is a MODULAR-BASED suite of products designed to provide flexibility and growth as your operations expands.
Download PDF
Benefits
Remove cost and management of dealing with pre-printed paper forms
Significant administrative time savings
Drivers Perform quicker mobile adjustments
Eliminate all calculation errors
Simplify end of day settlement process
Real time visibility into field operations
Accurately track and account for all products/assets
Improved accuracy for wearer edits and returns
Electronic invoices provide increased cash flow by reducing AR collection time
Proactive notification of shortages or non-delivery exceptions alerts
Real time integration of data to 3rd party systems
Resend electronic invoices; no more printing and stuffing invoices and statements
Access to historical or real time reports
Standardized operating process for all drivers and system users
Feature List
Paperless Delivery Solution
Electronic Invoices & Forms
Mobile Adjustments
Electronic Soil Ticket and Tracking; Count Soil by Item
Garment and Wearer Tracking & Management
Dust Control
Mats Management
Production Load, Tracking and Alert Management
Customer Owned Goods (COG)
CRM
Electronic Signature Capture
Enhanced Reporting
Business Intelligence (BI)
Business Productivity Dashboard
Credit Card Acceptance and Processing
GPS Tracking and Breadcrumbs
Barcode/RFID Scanning
Routing and Scheduling Optimisation (RSO)
Time and Attendance Tracking
Medical Waste Chain of Custody
Contact us to discuss opportunities today.