Timing is Everything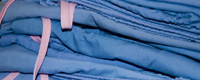 Once your truck has been accurately loaded, your laundry business becomes a mobile business!
Backed by over 25 years of providing mobile industry expertise, our M-LINX™ solutions are designed to provide, a configurable mobile offering which replicates your route workflow with logic tailored to meet your unique serving needs. Our M-LINX™ solution is a MODULAR-BASED suite of products designed to provide flexibility. As new modules are added, our scalability allows information to be 'stitched' together to provide an enterprise level information solution.
Download Mobile Route Management PDF
Features & Benefits
Mobile Secures Enhanced Delivery Automation – Eliminate paper in the field; Mobile Route Automation utilizing configurable drop down lists, check boxes, pre-filled fields, and calculation within the eForm. Save time, reduce errors, keying, paper filing using standardized business flows.
Mobile Adjustments – Complete delivery adjustments in the field, and receive customer proof of service signature on the spot. This information is all consolidated on a system End of Day reconciliation mobile report.
Electronic Soil Tickets tracking – Supports Electronic Soil tickets and customer assignments in the field, which integrates back to Colmac Soil system.
Mobile Dust Control/Mats – Track all your assets (Mats) as they are dropped off or picked up. Supports photo identification of mat inventory.
Garment Order with Quit – Streamline and improve accuracy for wearer edits, changes, and additions. The Quit feature ensures all garments are identified as part of the uniform take back process.
Mobile Timesheets – Improve visibility and tracking for all non-production time for your drivers. Easily integrate this information into your Time Clock + payroll systems.
eInvoice on the Mobile – Reduces AR time and improves cash flow as all invoices will be available for processing through seamless emailing to the customer.
Sales and Marketing – Collect on-site solicitation for upselling opportunities, competitive analysis data collection and specials promotions.
GPS Services – Device dependant, the M-LINX™ solution aids drivers by providing a familiar, easy to use mobile navigation resource and provides the operations with breadcrumb playback details.
Hardware Agnostic – We do not make you choose from a short list. Select virtually any smart phone, tablet, laptop or internet accessible device that is suitable for your operation.
Mobile Printing – if printing is a requirement, this option is available.
Business Productivity Center
– a reporting dashboard to stay on-top of all mobile work activities current and historical. Through our secure web portal, Schedule Live; Managers and Supervisors have a visual based dashboard enabling the team to take proactive steps in order to maintain the required customer service commitment.
Schedule Live – provides your operations and supervisor group with a real time view into the progress or delays for all of your assigned drivers.  Using a configurable color codes and a real time connection, your can stay on top of your field operations and deliver proactive customer service excellence.
Route Detail Summary – provides previous day's route activities, including driver and customer service status are all visible at a detailed level as completed on the mobile device.
Exception Based Alerts – on driver exceptions or delays available through the alert centre.
GPS Tracking and Breadcrumbs – provide a sequenced route deviation report to support driver scorecard and compliance programs.
Reporting – M-LINX™ provides reporting on all pertinent data collected in the field.
Interface – M-LINX™ uses a standard interface protocol which streamlines the integration to your Route Accounting and Financial modules.
Reporting – Access to a rich level of business reports that can be configured as required
Control – Provide your RSR with a standardized program and digital toolset required for accurate route settlement through the ability to manage onsite product sales, extend credit/exchanges, capture signature and then issue an electronic invoice. Eliminate manual calculations by coding formulas into the eForm. Even when out of coverage, technicians can collect and complete the required route activities.
Real Time Access to Information – Route service supervisors and delivery representatives have instant access to product and customer information, ability to lookup account history, daily specials and an assortment of productivity tools available at their fingertips.
Optional Modules
MCC offers optional modules to enhance systems capabilities and provide an additional layer of information.
Whether you are looking to drastically decrease your fuel operating costs, optimize your route efficiencies or keep an eye on all of your field assets, MCC can help transform your mobile route operations to the next level.
M-LINX™ for Routing and Scheduling Optimization As A Service

Dynamically optimize your route based on predefined business variables and/or emergency situations
Balance seasonal fluctuations and personnel (asset) resources
M-LINX™ for Vehicle Telemetry
Reduce your fleet's operating cost through reduced idling and speed monitoring
Build a comprehensive maintenance program using pro-active alerts
Create a green corporate initiative program that works
M-LINX™ Business Intelligence Reporting
Unlock the answers that lie within your data to make enhanced operational and tactical decisions
Differentiate against your competition and deliver the best overall customer satisfaction experience!
Feature List

Picture Capture
Find Closest Resource
Mobile Payment Processing
Product and Inventory Tracking
Safety and Compliance Reporting
Digital Proof of Service
Electronic Soil Bag Tracking
GPS Reporting
Mobile Dust Control/Mats Management
Production Load Management

Bar Code Scanning
RFID Scanning
Mobile Adjustments and Invoicing
(eForm)
Automated Call Ahead
Asset
Tracking Time and Event
Vehicle Telemetry
Mobile Reports Printing
Garment Order and Quit
RSO As A Service (Routing
and Scheduling Optimization)
Contact us to discuss opportunities today.
Download Mobile Route Management PDF