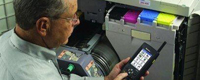 Responsiveness to the call when equipment is required is mandatory to satisfying customers.  Knowing the condition, location and pending maintenance schedules of your equipment is crucial to meeting your obligations.
With M-LINX™, be there, with the proper, working, equipment, when you are needed.
Features
Real-Time Data
Picture Capture
Find Closest Resource
POS Payment Processing
Inventory Tracking
Safety Reporting
Routing and Scheduling Optimization
Proof of Service
GPS Reporting
Service Order Dispatch and Scheduling
Bar Code Scanning
Electronic Forms
Chain of Custody Tracking
Asset Tracking
Time and Event Tracking
CRM
Jeopardy Management
Mobile Reports Printing
Operate an Effective Call Centre
Equipment Maintenance Scheduling and Tracking
Benefits
Over deliver on customer Service Agreements
Reduce cycle counts of inventory
Real-time visibility into field operations
Standardize workflow
Reduce AR billing cycle time
Eliminate paperwork and data entry errors
Reduce overhead costs
Up-Sell Tools
Real-time Competitive Intelligence Dashboard reporting
Track assets
Promote green initiatives
Manage over-time
Increase Productivity of Mobile Workers
Reduce fuel costs
Repair Schematics for troubleshooting
Contact us to discuss opportunities today.