"Your image means everything… Once your truck has been accurately loaded, your laundry business becomes a mobile business!"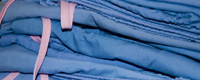 M-LINX™ for Route Accounting and Route Delivery
M-LINX™ is focused exclusively on dramatically reducing your overall cost of linen management, while providing you with Control measures to ensure you stay on track.
Backed by over 30 years of providing mobile industry expertise, our M-LINX™ solutions are highly configurable solutions that are tailored to align with your business in mind.
Our M-LINX™ solution is a Modular Based suite of products designed to provide flexibility and growth as your operations expands.
Download PDF
Benefits
Complete Flexibility, customer configured solution
Take advantage of exactly what you need, when you need it
Remove cost and management of dealing with pre-printed paper forms
Significant administrative time savings
Drivers Perform quicker mobile adjustments
Eliminate all calculation errors
Simplify end of day settlement process
Real time visibility into field operations
Accurately track and account for all products/assets
Improved accuracy for wearer edits and returns
Electronic invoices provide increased cash flow by reducing AR collection time
Proactive notification of shortages or non-delivery exceptions alerts
Real time integration of data to 3rdparty systems
Resend electronic invoices; no more printing and stuffing invoices and statements
Access to historical or real time reports
Standardized operating process for all front office, plant and drivers
Feature List
CRM supports Simple customer contract setup and administration
Item pricing – Support for multiple pricing methods by item, soil counts, weight, flat rate, surcharge etc
Easy master pricing updates (individual or global) and tax changes
Customer facing web portal
Seamless Integration with 3rd party HR, Financial, Supply Chain, Time Tracking, Credit Card solutions
Full Inventory and Carts management
Support COG/NOG plants
Garment label printing and barcode scanning
Computer generated cart loading with weight verification
Paperless Delivery Solution
Electronic Invoices & Forms
Mobile Adjustments
Electronic Soil Ticket and Tracking; Count/Scan Soil by Item
Garment and Wearer Tracking & Management
Dust Control
Mats Management
Production Load, Tracking and Alert Management
Customer Owned Goods (COG)
Mobile Sales and CRM application
Electronic Signature Capture
RSR Notes Capture
Delivery previews
Enhanced Reporting
Business Intelligence (BI)
Business Productivity Dashboard
Credit Card Acceptance and Processing
GPS Tracking and Breadcrumbs
Barcode/RFID Scanning
Routing and Scheduling Optimisation (RSO)
Time and Attendance Tracking
Medical Waste Chain of Custody
Contact us to discuss opportunities today.